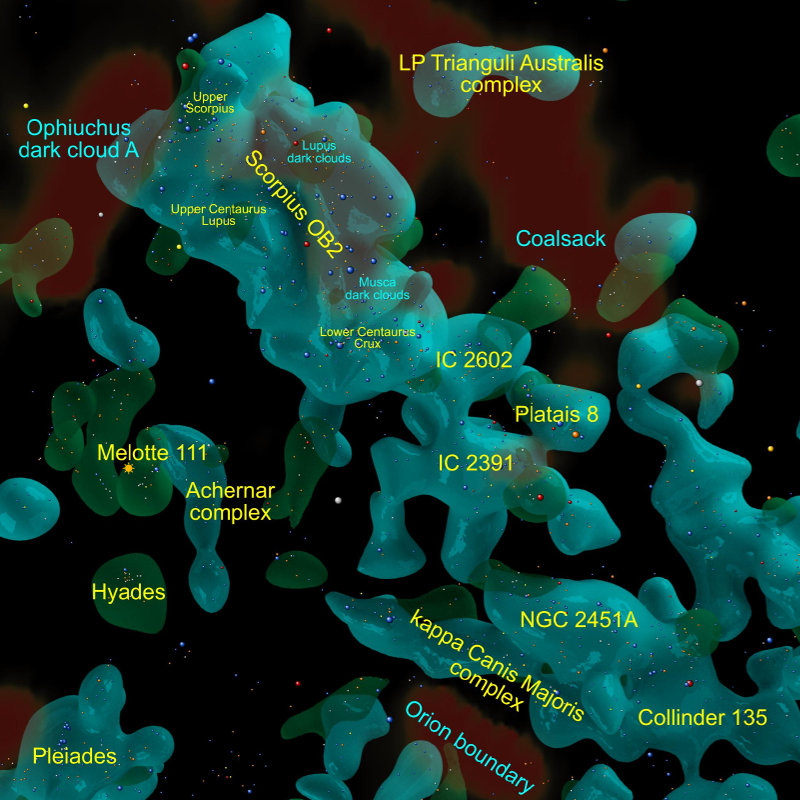 A detail of the 40% density isosurface from the
solar neighbourhood map
.
Now that version 3 of the solar neighbourhood map is out, I am thinking about next steps.
Gaia DR2, expected in April 2018, will allow for more detailed, more accurate and much larger maps, but in the nine months or so we are waiting for it, there are quite a few things that I could do. Here are some possibilities. I would welcome your suggestions or feedback as well.
Create a 15-20 minute "Welcome to the Neighbourhood" video on Youtube including 3D animations made from the map meshes.
Design a board or video game played on a real map of the solar neighbourhood.
Create a larger map. I pushed the data about as far as I dared within reasonable error limits but there is a paper that uses models of star distribution to relax the error conditions somewhat. If I extended the map from its current radius of 650 pc to 1000 pc, I could include some larger star associations in the direction of Cepheus.
You can email me at kevinjardine@gmail.com or DM me at @galaxy_map on Twitter.