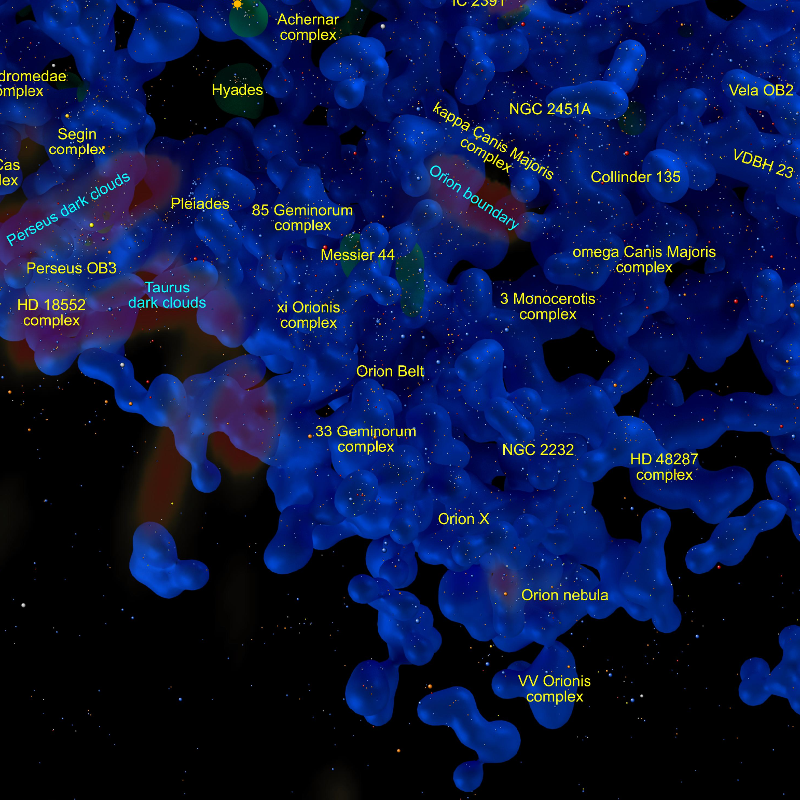 A detail of the 18% isosurface around Orion taken from the third version of the solar neighbourhood map. Oriented so that the direction to the galactic centre is at the top.
As I mentioned in my previous blog post, I have created a new version (v. 3) of the solar neighbourhood map. This uses colours taken from the 2MASS catalog and has simpler controls (dust is always turned on and the views always show a 70% bright star isosurface). You can select several different hot star isosurface densities as well as three different label schemes.
The brightest stars now have labels if you select the isosurface or stars label options.
The new dust overlay is taken from figure 3 (top) in this preprint:
Three-dimensional mapping of the local interstellar medium with composite data,
Capitanio, Letizia; Lallement, Rosine; Vergely, Jean Luc; Elyajouri, Meriem; Monreal-Ibero, Ana
eprint arXiv:1706.07711
You can read detailed documentation by clicking on the Help link at the upper right of the map system, which can be found here.