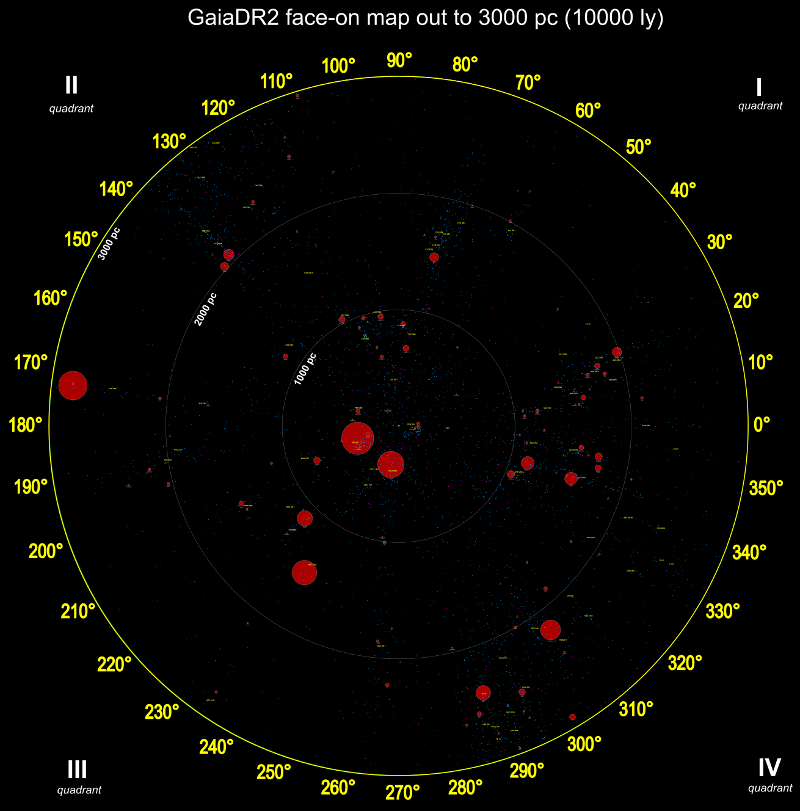 A face-on map of the Milky Way within 3kpc (about 10 thousand light years). The full revised map is
is available as a PDF here
.
I have revised the face-on map I published in my last blog post. As before, this is based on the Humphreys/Blaha data set of ionizing and highly luminous stars and a (now expanded) list of ionizing stars for HII regions. For this revision, I used the distance estimates for Gaia DR2 stars provided by Bailer-Jones and his colleagues at Germany's Max Planck Institute for Astronomy. These distances provide more accurate distance estimates for many stars than a simple reciprocal calculation, and allow distances to be estimated for a much larger set of stars.
In order to provide an additional check on the HII region distances, I have compared the Bailer-Jones distances for the ionizing stars with existing photometric and kinematic distance estimates for the associated HII regions. If a photometric or kinematic distance estimate provided an error range, I used that, or otherwise used a range of +/- 25% of the published value.
If an ionizing star had a Bailer-Jones distance outside the error range for any published distance estimate for the associated HII region, I considered it an outlier and filtered it out. I then computed a filtered distance for the HII region as the median distance for the filtered ionizing stars. If 50% or more of the ionizing stars for an HII region made it through the filtering process, I used the filtered distance value for the revised map. If less than 50% of the ionizing stars for an HII region made it through the filtering process, I excluded the HII region from the map.
For a small number of HII regions with very bright ionizing stars I used Hipparcos stars with err/plx < 0.2 when Gaia DR data was not available. I used the reciprocal method to compute the distance and then applied the same filtering process described above.
Fortunately, almost all the major HII regions within 3kpc made it through the filtering process. The ones that did not were mostly small regions with few known ionizing stars. I have added a table below listing the HII regions that had at least one ionizing star with a Bailer-Jones distance compatible with a previously published HII region distance. I provided links to the relevant distance papers in the last column of the table.
The full revised map is is available as a PDF here. You will need to zoom into about 200% in the PDF to read the labels for each HII region.
You can also see the list of ionizing stars I used for the HII regions.
| Region | All distance | All star count | Filtered distance | Filtered star count | Percentage | Sources |
| --- | --- | --- | --- | --- | --- | --- |
| Sh 2-275 | 1508 | 6 | 1508 | 6 | 100% | [1], [2] |
| Gum 38a | 2574 | 4 | 2574 | 4 | 100% | [1], [2], [3] |
| RCW 14 | 2778 | 4 | 2778 | 4 | 100% | [1] |
| RCW 32 | 962 | 4 | 962 | 4 | 100% | [1], [2] |
| Sh 2-157 | 3209 | 4 | 3209 | 4 | 100% | [1], [2], [3] |
| Sh 2-299 | 4182 | 4 | 4182 | 4 | 100% | [1], [2] |
| Sh 2-300 | 4182 | 4 | 4182 | 4 | 100% | [1], [2] |
| Sh 2-306 | 4959 | 4 | 4959 | 4 | 100% | [1], [2], [3] |
| DWB 78 | 1652 | 3 | 1652 | 3 | 100% | [1] |
| Gum 21 | 2228 | 3 | 2228 | 3 | 100% | [1] |
| RCW 104 | 3505 | 3 | 3505 | 3 | 100% | [1] |
| Sh 2-150 | 982 | 3 | 982 | 3 | 100% | [1], [2] |
| Sh 2-205 | 1141 | 3 | 1141 | 3 | 100% | [1], [2], [3], [4] |
| Sh 2-219 | 4025 | 3 | 4025 | 3 | 100% | [1], [2], [3], [4] |
| Sh 2-252 | 2174 | 3 | 2174 | 3 | 100% | [1], [2], [3], [4] |
| Sh 2-254 | 2376 | 3 | 2376 | 3 | 100% | [1], [2], [3], [4] |
| Sh 2-255 | 2376 | 3 | 2376 | 3 | 100% | [1], [2], [3], [4] |
| Sh 2-256 | 2376 | 3 | 2376 | 3 | 100% | [1], [2], [3], [4] |
| Sh 2-257 | 2376 | 3 | 2376 | 3 | 100% | [1], [2], [3], [4] |
| Sh 2-258 | 2376 | 3 | 2376 | 3 | 100% | [1], [2], [3], [4] |
| Ge 129 | 1999 | 2 | 1999 | 2 | 100% | [1] |
| RCW 113 | 1545 | 2 | 1545 | 2 | 100% | [1], [2], [3] |
| RCW 117 | 1470 | 2 | 1470 | 2 | 100% | [1] |
| RCW 19 | 4091 | 2 | 4091 | 2 | 100% | [1], [2] |
| RCW 41 | 2027 | 2 | 2027 | 2 | 100% | [1] |
| RCW 47 | 2637 | 2 | 2637 | 2 | 100% | [1], [2], [3], [4] |
| RCW 60a | 2674 | 2 | 2674 | 2 | 100% | [1] |
| RCW 75 | 2404 | 2 | 2404 | 2 | 100% | [1], [2] |
| RCW 82 | 3280 | 2 | 3280 | 2 | 100% | [1], [2] |
| RCW 88 | 2348 | 2 | 2348 | 2 | 100% | [1] |
| Sh 2-139 | 3453 | 2 | 3453 | 2 | 100% | [1], [2], [3], [4] |
| Sh 2-142 | 2964 | 2 | 2964 | 2 | 100% | [1] |
| Sh 2-184 | 2306 | 2 | 2306 | 2 | 100% | [1], [2] |
| Sh 2-217 | 4025 | 2 | 4025 | 2 | 100% | [1], [2], [3], [4] |
| Sh 2-25 | 1195 | 2 | 1195 | 2 | 100% | [1] |
| Sh 2-29 | 1072 | 2 | 1072 | 2 | 100% | [1] |
| Sh 2-307 | 4054 | 2 | 4054 | 2 | 100% | [1] |
| Sh 2-309 | 4959 | 2 | 4959 | 2 | 100% | [1], [2], [3] |
| Sh 2-311 | 6450 | 2 | 6450 | 2 | 100% | [1], [2] |
| Sh 2-34 | 1602 | 2 | 1602 | 2 | 100% | [1] |
| Sh 2-4 | 3295 | 2 | 3295 | 2 | 100% | [1], [2], [3] |
| Sh 2-92 | 3795 | 2 | 3795 | 2 | 100% | [1], [2] |
| BFS 28 | 915 | 1 | 915 | 1 | 100% | [1] |
| BFS 54 | 1514 | 1 | 1514 | 1 | 100% | [1] |
| BFS 63 | 1090 | 1 | 1090 | 1 | 100% | [1] |
| DWB 155 | 1659 | 1 | 1659 | 1 | 100% | [1] |
| Ge 130 | 2910 | 1 | 2910 | 1 | 100% | [1] |
| Gum 31 | 3289 | 1 | 3289 | 1 | 100% | [1], [2], [3] |
| H 36 | 2773 | 1 | 2773 | 1 | 100% | [1] |
| L 4 | 4455 | 1 | 4455 | 1 | 100% | [1] |
| RCW 107 | 1101 | 1 | 1101 | 1 | 100% | [1], [2] |
| RCW 108 | 1049 | 1 | 1049 | 1 | 100% | [1], [2] |
| RCW 110 | 1900 | 1 | 1900 | 1 | 100% | [1] |
| RCW 114 | 1154 | 1 | 1154 | 1 | 100% | [1] |
| RCW 119 | 1749 | 1 | 1749 | 1 | 100% | [1], [2] |
| RCW 125 | 1433 | 1 | 1433 | 1 | 100% | [1], [2] |
| RCW 51 | 2566 | 1 | 2566 | 1 | 100% | [1], [2], [3] |
| RCW 71 | 1608 | 1 | 1608 | 1 | 100% | [1] |
| RCW 94 | 1779 | 1 | 1779 | 1 | 100% | [1] |
| Sh 2-117 | 668 | 1 | 668 | 1 | 100% | [1] |
| Sh 2-13 | 1039 | 1 | 1039 | 1 | 100% | [1] |
| Sh 2-134 | 612 | 1 | 612 | 1 | 100% | [1] |
| Sh 2-135 | 2252 | 1 | 2252 | 1 | 100% | [1] |
| Sh 2-15 | 1249 | 1 | 1249 | 1 | 100% | [1], [2] |
| Sh 2-155 | 831 | 1 | 831 | 1 | 100% | [1], [2], [3] |
| Sh 2-158 | 2671 | 1 | 2671 | 1 | 100% | [1], [2], [3], [4] |
| Sh 2-160 | 912 | 1 | 912 | 1 | 100% | [1], [2] |
| Sh 2-162 | 2495 | 1 | 2495 | 1 | 100% | [1], [2], [3] |
| Sh 2-163 | 3473 | 1 | 3473 | 1 | 100% | [1], [2] |
| Sh 2-164 | 2840 | 1 | 2840 | 1 | 100% | [1], [2], [3], [4] |
| Sh 2-165 | 1715 | 1 | 1715 | 1 | 100% | [1], [2], [3] |
| Sh 2-168 | 2705 | 1 | 2705 | 1 | 100% | [1], [2] |
| Sh 2-170 | 1887 | 1 | 1887 | 1 | 100% | [1], [2] |
| Sh 2-173 | 3021 | 1 | 3021 | 1 | 100% | [1], [2], [3], [4], [5] |
| Sh 2-175 | 2121 | 1 | 2121 | 1 | 100% | [1] |
| Sh 2-180 | 4732 | 1 | 4732 | 1 | 100% | [1], [2], [3] |
| Sh 2-185 | 168 | 1 | 168 | 1 | 100% | [1], [2] |
| Sh 2-198 | 2176 | 1 | 2176 | 1 | 100% | [1], [2], [3] |
| Sh 2-206 | 3135 | 1 | 3135 | 1 | 100% | [1], [2], [3], [4] |
| Sh 2-207 | 3532 | 1 | 3532 | 1 | 100% | [1], [2] |
| Sh 2-22 | 1082 | 1 | 1082 | 1 | 100% | [1] |
| Sh 2-223 | 6602 | 1 | 6602 | 1 | 100% | [1] |
| Sh 2-227 | 4259 | 1 | 4259 | 1 | 100% | [1], [2], [3] |
| Sh 2-229 | 401 | 1 | 401 | 1 | 100% | [1], [2] |
| Sh 2-232 | 2068 | 1 | 2068 | 1 | 100% | [1], [2] |
| Sh 2-235 | 1651 | 1 | 1651 | 1 | 100% | [1] |
| Sh 2-237 | 4139 | 1 | 4139 | 1 | 100% | [1] |
| Sh 2-241 | 5258 | 1 | 5258 | 1 | 100% | [1], [2], [3], [4] |
| Sh 2-242 | 1967 | 1 | 1967 | 1 | 100% | [1], [2] |
| Sh 2-247 | 2027 | 1 | 2027 | 1 | 100% | [1], [2], [3] |
| Sh 2-253 | 4540 | 1 | 4540 | 1 | 100% | [1], [2] |
| Sh 2-261 | 2041 | 1 | 2041 | 1 | 100% | [1], [2], [3] |
| Sh 2-263 | 529 | 1 | 529 | 1 | 100% | [1] |
| Sh 2-264 | 279 | 1 | 279 | 1 | 100% | [1], [2] |
| Sh 2-266 | 5523 | 1 | 5523 | 1 | 100% | [1] |
| Sh 2-268 | 1141 | 1 | 1141 | 1 | 100% | [1], [2] |
| Sh 2-27 | 181 | 1 | 181 | 1 | 100% | [1] |
| Sh 2-28 | 2099 | 1 | 2099 | 1 | 100% | [1], [2] |
| Sh 2-280 | 1488 | 1 | 1488 | 1 | 100% | [1], [2] |
| Sh 2-283 | 6794 | 1 | 6794 | 1 | 100% | [1], [2], [3] |
| Sh 2-298 | 4319 | 1 | 4319 | 1 | 100% | [1] |
| Sh 2-302 | 2135 | 1 | 2135 | 1 | 100% | [1], [2], [3] |
| Sh 2-32 | 1590 | 1 | 1590 | 1 | 100% | [1] |
| Sh 2-44 | 1823 | 1 | 1823 | 1 | 100% | [1] |
| Sh 2-46 | 1421 | 1 | 1421 | 1 | 100% | [1] |
| Sh 2-54 | 1976 | 1 | 1976 | 1 | 100% | [1], [2] |
| Sh 2-61 | 2390 | 1 | 2390 | 1 | 100% | [1], [2] |
| Sh 2-7 | 150 | 1 | 150 | 1 | 100% | [1] |
| Sh 2-72 | 1693 | 1 | 1693 | 1 | 100% | [1] |
| Sh 2-80 | 6203 | 1 | 6203 | 1 | 100% | [1] |
| Sh 2-82 | 846 | 1 | 846 | 1 | 100% | [1] |
| Sh 2-85 | 484 | 1 | 484 | 1 | 100% | [1] |
| Sh 2-90 | 2266 | 1 | 2266 | 1 | 100% | [1] |
| Ori-Eri Bubble | 396 | 15 | 396 | 15 | 100% | [1] |
| Sh 2-119 | 787 | 6 | 877 | 5 | 83% | [1], [2], [3] |
| Sh 2-131 | 956 | 17 | 953 | 14 | 82% | [1], [2] |
| RCW 53 | 2503 | 51 | 2405 | 41 | 80% | [1] |
| Sh 2-8 | 1754 | 20 | 1734 | 16 | 80% | [1], [2], [3] |
| RCW 99 | 2396 | 5 | 2428 | 4 | 80% | [1], [2], [3] |
| Sh 2-137 | 470 | 5 | 705 | 4 | 80% | [1], [2], [3] |
| Sh 2-199 | 2039 | 5 | 2028 | 4 | 80% | [1], [2], [3] |
| Sh 2-236 | 3785 | 5 | 3798 | 4 | 80% | [1], [2], [3], [4], [5], [6] |
| Sh 2-297 | 1125 | 5 | 1103 | 4 | 80% | [1], [2] |
| Sh 2-11 | 1617 | 28 | 1577 | 21 | 75% | [1], [2], [3], [4] |
| Sh 2-273 | 772 | 12 | 764 | 9 | 75% | [1] |
| Sh 2-230 | 2811 | 4 | 2820 | 3 | 75% | [1] |
| Sh 2-296 | 1138 | 4 | 1133 | 3 | 75% | [1], [2] |
| RCW 62 | 2527 | 7 | 2519 | 5 | 71% | [1] |
| Sh 2-190 | 2171 | 9 | 2072 | 6 | 66% | [1], [2], [3] |
| Sh 2-49 | 1961 | 9 | 1778 | 6 | 66% | [1], [2] |
| DWB 68 | 1023 | 3 | 1026 | 2 | 66% | [1] |
| Ge 68 | 2820 | 3 | 2820 | 2 | 66% | [1] |
| Gum 37 | 3254 | 3 | 2953 | 2 | 66% | [1], [2], [3] |
| m Cen nebula | 2314 | 3 | 2183 | 2 | 66% | [1] |
| RCW 102 | 3723 | 3 | 4055 | 2 | 66% | [1], [2] |
| RCW 130 | 1227 | 3 | 1108 | 2 | 66% | [1], [2] |
| RCW 33 | 1011 | 3 | 1011 | 2 | 66% | [1], [2] |
| RCW 35 | 1680 | 3 | 1857 | 2 | 66% | [1], [2] |
| Sh 2-295 | 1283 | 3 | 1269 | 2 | 66% | [1] |
| Sh 2-31 | 1072 | 3 | 1072 | 2 | 66% | [1] |
| Sh 2-88 | 2084 | 3 | 2005 | 2 | 66% | [1], [2], [3] |
| Sh 2-45 | 1664 | 11 | 1678 | 7 | 63% | [1], [2] |
| Sh 2-101 | 1936 | 5 | 1993 | 3 | 60% | [1], [2], [3] |
| Sh 2-140 | 1069 | 5 | 937 | 3 | 60% | [1], [2], [3] |
| Sh 2-30 | 1140 | 5 | 1529 | 3 | 60% | [1], [2] |
| Sh 2-281 | 404 | 5 | 417 | 3 | 60% | [1], [2], [3] |
| RCW 55 | 4606 | 4 | 4606 | 2 | 50% | [1], [2], [3] |
| RCW 61 | 4097 | 4 | 2743 | 2 | 50% | [1], [2] |
| Sh 2-108 | 1695 | 4 | 1478 | 2 | 50% | [1], [2] |
| Sh 2-145 | 1089 | 4 | 982 | 2 | 50% | [1], [2] |
| Sh 2-35 | 1668 | 4 | 1668 | 2 | 50% | [1], [2] |
| Gum 12 | 337 | 2 | 342 | 1 | 50% | [1] |
| RCW 129 | 180 | 2 | 145 | 1 | 50% | [1] |
| RCW 146b | 2770 | 2 | 1558 | 1 | 50% | [1], [2] |
| RCW 38 | 2125 | 2 | 1740 | 1 | 50% | [1] |
| RCW 48 | 2989 | 2 | 1960 | 1 | 50% | [1] |
| RCW 68 | 2259 | 2 | 1924 | 1 | 50% | [1] |
| RCW 83 | 2069 | 2 | 1881 | 1 | 50% | [1] |
| RCW 85 | 1916 | 2 | 1605 | 1 | 50% | [1], [2] |
| Sh 2-1 | 1445 | 2 | 179 | 1 | 50% | [1] |
| Sh 2-220 | 758 | 2 | 381 | 1 | 50% | [1] |
| Sh 2-289 | 2814 | 2 | 5534 | 1 | 50% | [1] |
| Sh 2-292 | 731 | 2 | 1333 | 1 | 50% | [1] |
| Sh 2-301 | 3790 | 2 | 4451 | 1 | 50% | [1] |
| Sh 2-310 | 4000 | 2 | 1508 | 1 | 50% | [1], [2] |
| Sh 2-37 | 1386 | 2 | 1536 | 1 | 50% | [1], [2], [3] |
| Sh 2-64 | 681 | 2 | 566 | 1 | 50% | [1] |
| Sh 2-87 | 1555 | 2 | 2310 | 1 | 50% | [1], [2], [3] |
| Sh 2-171 | 1107 | 4 | 1039 | 2 | 50% | [1] |
| DWB 34 | 1693 | 7 | 1693 | 3 | 42% | [1] |
| Sh 2-41 | 1875 | 7 | 1875 | 3 | 42% | [1] |
| Sh 2-129 | 1256 | 5 | 834 | 2 | 40% | [1] |
| Sh 2-202 | 1029 | 5 | 819 | 2 | 40% | [1], [2] |
| Sh 2-284 | 3869 | 13 | 4663 | 5 | 38% | [1], [2], [3], [4], [5] |
| Gum 34b | 6749 | 3 | 3450 | 1 | 33% | [1] |
| RCW 106 | 2088 | 3 | 2088 | 1 | 33% | [1] |
| RCW 20 | 4448 | 3 | 3607 | 1 | 33% | [1] |
| RCW 49 | 3208 | 3 | 5805 | 1 | 33% | [1] |
| RCW 50 | 2684 | 3 | 4052 | 1 | 33% | [1] |
| RCW 74 | 2252 | 3 | 3707 | 1 | 33% | [1], [2] |
| Sh 2-115 | 1704 | 3 | 2701 | 1 | 33% | [1], [2], [3] |
| Sh 2-132 | 4542 | 3 | 4146 | 1 | 33% | [1] |
| Sh 2-249 | 2384 | 3 | 2012 | 1 | 33% | [1], [2] |
| RCW 105 | 4094 | 5 | 2115 | 1 | 20% | [1], [2] |